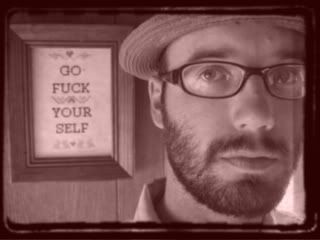 The Second Coming
by diy danna
I thought I loved the coolest guy in Austin once.
Craig Liszt.
He's on the internet and plays keys,
but isn't related to that Craig's List or Franz.
Yet his simple strokes are genius flourishes.
How it happened:
One sweltering summer night Craig made love to the jukebox at The Parlor and told me that Tom Waits dreams in sepia like Kansas in the Wizard of Oz. From that moment – maybe even before that – I worshiped Craig.
How I joined His Cult:
I flipped off a jerk in traffic in His holy name. Baptism by profanity.
I wanted to know Craig's real birthday (fuck December 25th),
to send Him a singing telegram-
a clown with instructions to my Id and Super Ego.
How Craig answered my prayers:
He read my breasts in my dreams like scripture, and I called out His name in vain as I woke up.
He journeyed to the desert,
a Simon in the Buñuel film.
He's fasting and praying to rock music,
fasting and praying to rock music.
Is His middle name David?